It's all too easy to play it safe in life, but the benefit of having courage of conviction is becoming increasingly obvious. In fact, there's never been a better time to speak honestly about the issues that matter.
We've been reminded of this in countless ways already this year, but if you wanted more proof, look no further than Kenya Barris' Black-ish, a show that's fearless when it comes to addressing important topics, and all the more popular because of it.
With its fourth series hitting E4 soon, the sitcom follows the story of Dre (Anthony Anderson) and Rainbow (Tracee Ellis Ross) and the challenges they face as they raise their kids Zoey (Yara Shahidi), Andre Jr. (Marcus Scribner) and twins Diane (Marsai Martin) and Jack (Miles Brown) to be the best can be, but also to never forget the importance of their black identity and all the positive things about it.
If you've haven't seen it, you really should. Here are just a few reasons why…
It speaks from the heart

Black-ish has been described by Barris as semi-autobiographical, with the show's matriarch being an anesthesiologist named Rainbow, much like his real-life wife. But it's the less literal parallels that make it so successful.
For instance, in a series two episode called 'Hope', Jack asks his parents about police brutality ('why are all these people so mad?'), which is based on a tough yet honest conversation Barris had with his own young son after a jury declined to indict a police officer for shooting a black teenager in 2014.
It balances issues and comedy

Always self-aware, the first series alone handled homophobia, marriage equality, corporal punishment and much more, all without a moment of self-righteous preaching. Ultimately, this means you come away from Black-ish more fully informed while still having been thoroughly entertained. Win win.
It's helped Tracee Ellis Ross make history

Last year, Tracee Ellis Ross became the first black woman in 34 years to win the Golden Globes' best actress in a TV comedy or musical for her role in the show.
At the more recent award event, the daughter of Diana Ross took a stand for the Time's Up movement, saying, 'I wear black today as a 'we' not as an 'I', as a celebration of our collective power as women, as an embodiment of sisterhood, solidarity and the work being done to create structural change. We wear black for equity, parity inclusion across all industries.'
It reminds us how great Laurence Fishburne is

Dre's father, Earl, is an oracle of wisdom, even if his old school opinion isn't always welcomed by his family, and the actor who plays him, Laurence Fishburne, makes some excellent sound bites off camera too.
When asked about the show's title, he explained 'For some people, it means when black folks kind of act white. For some people, it means when white folks kind of act black. I think of it this way. Two words: Justin Bieber. Justin Bieber acts blackish but he doesn't get shot by the police; he gets a police escort home.'
Its spin-off show was inspired by a meme

Black-ish spin-off show Grown-ish follows the Johnsons' eldest daughter as she heads to college, which seems like an obvious offshoot, but the idea came to Barris in a very unique way. 'I saw a meme one day and it said, 'Where would Zoey go to college?' I was like, 'This is a f—ing show.' That was my lightbulb moment.' If that's not tapping into the zeitgeist, we don't know what is.
It's creator co-birthed America's Next Top Model

After graduating with a film degree, Barris served as a writer on various TV dramas. However, with bigger ambitions, he teamed up with his childhood pal Tyra Banks and hatched the concept of America's Next Top Model.
Rather than sitting back and counting his royalty cheques, he got back to writing, penning episodes of Tracee Ellis Ross series Girlfriend before Black-ish, where Tyra even appears a recurring character, playing Dre's childhood best pal. Wonder where they got the idea for that?
The flashback and fantasy sequences are perfect

Elaborate fantasy and flashbacks sequences are no new thing (hello Ally McBeal dancing baby), but Black-ish has really upped the stakes.
Following a story where Diane and Jack find their grandfather's old scrapbook, the first season finale took the Johnsons back in time to 1920s Harlem and stars Sean 'Diddy' Combs and Mary J. Blige, while the second season finale sees the family transported to the 1970's 'Good Times'. Learning history through song and dance? Bring it on.
You can jump in wherever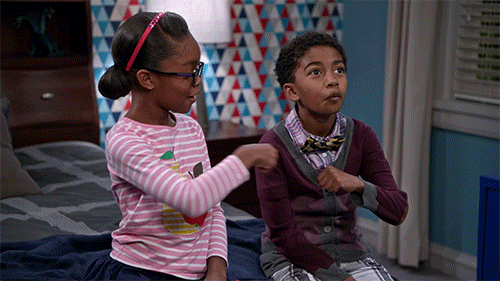 While the general story arc allows the characters to develop throughout the series (and even via a spin-off with regard to Zoey's journey), it's still incredibly easy to dip in and out of Black-ish, mainly thanks to sharp scripts, standalone one-liners and topical issues explored in individual episodes. That said, if you've got time to binge from the beginning, find the comfiest chair and get settled. You won't want to turn it off.